A fresh look at home care packages
What is included in a home care package?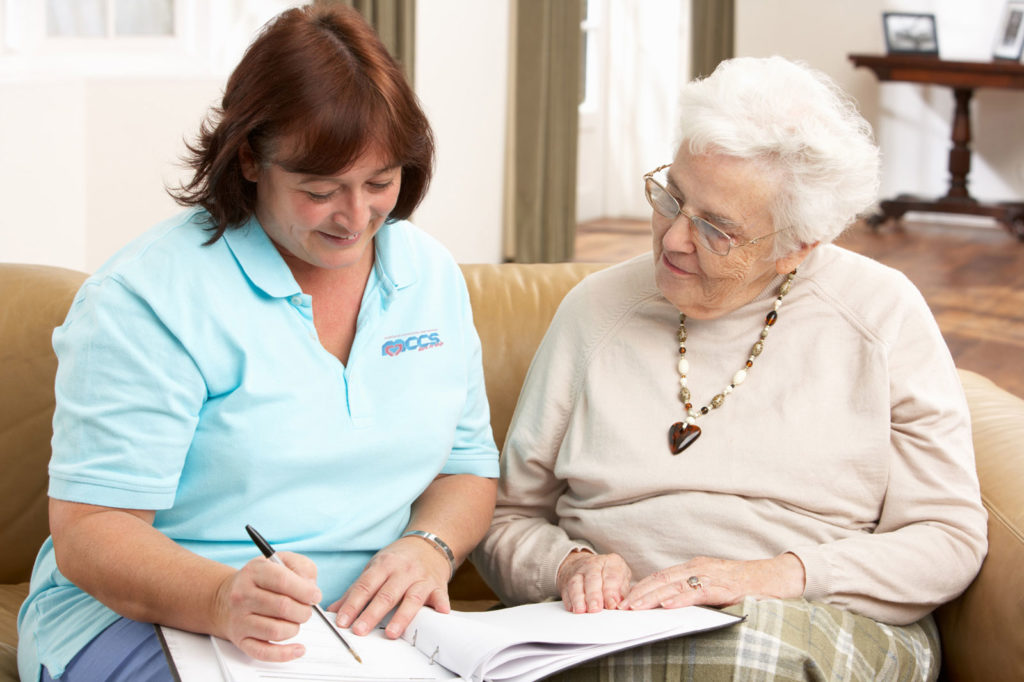 Maitland Community Care is a registered Home Care Package service provider. Clients can come to us to help them manage the funds they receive from the government under the Home Care Package Scheme. This includes personal care, medication assistance, nursing and allied health, meal preparation, domestic cleaning, transport services, social support, Meals on Wheels and help with shopping and banking etc.
We also provide services to take care of your lawns and gardens.  Your home care package allows you to purchase and pay for necessary items like mobility equipment, hearing aids, glasses and undertaking life-changing home modifications that will keep you living safely and indepently.
How do I qualify for a Home Care Package?
That first call to My Aged Care sets it all in motion. This is the government department in charge of all the funding for in-home Aged Care support. Once the call is made, an Aged Care Assessment Team (ACAT) assessment follows. This will assist the team to decide what level of service would suit you best.  You will now be allocated a spot on the waitlist for a Home Care Package. Once funding comes through for you, you will be assigned the level which is most appropriate to suit your needs.
What are the differences between the different levels?
The key difference is the amount of funding that will be allocated to you. This is based on your need as assessed by ACAT. A Level 1 will provide you with around 1 to 3 hours of direct service per week, whilst a Level 4 can provide daily services.
Waiting periods for the different levels differ. Level 1 packages take between 6-12 months, and the Levels 2, 3 and 4 can take over 12 months. Cleaning is the most commonly requested entry-level service, followed by other household assistance like grocery shopping and keeping lawns mowed and tidy. Personal care follows later when a client requires more assistance.
What are the out-of-pocket costs involved for clients?
Individual circumstances will determine out-of-pocket expenses.  This is made of up two main fees.  The first is called an Income Tested Fee; a compulsory fee set by Medicare, Centrelink or Services Australia. The person's income is assessed, and this forms the basis of a person being asked to make an out-of-pocket contribution.
The other is called a Basic Daily Fee. This fee is set by the service provider (MCCS) and is negotiable – fluctuating between a dollar – up to $10 a day.  This will enable a client to use extra services and will be added to the government funding. It can add extra hours of service per week and make a significant difference to the quality of a person's daily life. Maitland Community Care ensures that this is not a compulsory fee.
I am considering a Home Care Package. What is important to know?
It is critical to get in early. You may still be in your own home, driving and feeling confident about all aspects of your life. It is strongly recommended that you contact My Aged Care anyway, to get your assessment and enter the system early. You will be placed on a waiting list, and it may take a further 12 months for your package to be awarded. Life can change in a moment and when the day comes when you do need support to remain in your own home, you may already be on the waiting list and closer to receiving those services. You will always have the option of increasing services when you need them. Start small and start early. Once in the system, you will find it much easier and quicker to increase or change your services. You can register with My Aged Care at www.myagedcare.gov.au 
Can Clients feel safe having Team Members and Contractors enter their homes?
Every team member providing a service in a client's home must have a minimum Certificate III in Individual Support.  They must be trained in First Aid and produce a certificate. Working will Children Checks are also in place for our entire team, and they are all subject to a new NDIS Worker Check before they can provide you with a service in your home. All our team members are covered by our insurance and every vehicle used to provide services is comprehensively insured. For your peace of mind, all our staff carry photo identification.
Maitland Community Care will try to limit the size of the team providing anyone's support, to three people. Home Care Package clients are therefore still able to enjoy the familiarity and rapport which comes with having a regular team member visit and build a professional relationship over time.
Is there a review process for the Home Care Package services provided?
Yes. The entire Home Care Package is reviewed annually with a meeting between the Maitland Community Care team and the client. This is a government requirement to ensure that the client's needs are properly met. Case Managers can request reviews on the client's behalf at any time, and then they would need to be reassessed by ACAT in case they require a higher-level package to meet changing needs. Waiting periods fluctuate, depending on the level involved. An ongoing roster is put into place and will continue running until the client's needs change. In addition, Case Managers will make a monthly call to check in with the client, ensuring that the services they are receiving are supporting their needs.
What things can't I use a Home Care Package for?
Household expenses such as groceries, a new television, an energy or phone bill, a new fridge, replacing a broken window and paying for a holiday are all excluded. Anything relating to owning a house or living your daily life would fall under this category.  If the need is related to the aging process or deteriorating health, it will be considered.  It is all about keeping you healthy, independent and cared for in the safety and comfort of your home.